User Control Panel

Your profile

Social

Private messages

Other
Who is online?
In total there is
1
user online :: 0 Registered, 0 Hidden and 1 Guest
None
Most users ever online was
87
on Wed Sep 10, 2014 9:33 am
Statistics
We have
62
registered users
The newest registered user is
wallgil
Our users have posted a total of
4354
messages in
144
subjects

This is the team that i have planned for competitive battling. The pokemon are here to stay with the exception of Skarmory as he's my least favourite of the 6 pokemon. Please advise me on movesets, possible treats etc... I like to operate within the Item clause (1 item only) especially as i can only get 1 leftovers.

Tyranitar @ Dark Gem
Ability: Sand Stream
EVs: 252 HP / 252 SDef / 4 Def
Careful Nature
- Pursuit
- Stealth Rock
- Aerial Ace
- Stone Edge
This guy is pretty useful. He is designed to stealth rock, and kill whatever switches out, or hurt fighting types switching in. Stone Edge for Stab.

Trevenant @ Big Root
Ability: Natural Cure
EVs: 252 SDef / 252 HP / 4 Atk
Careful Nature
- Leech Seed
- Horn Leech
- Will-O-Wisp
- Rest
An AMAZING pokemon (yes i have the shiny

) Spin blocker, that walls lots of prominent threats. Mega K, Rotom, Mold Breaker Excadrill, the list goes on...

Hitmontop (M) @ Red Card
Ability: Intimidate
EVs: 252 HP / 252 SDef / 4 Def
Careful Nature
- Foresight
- Rapid Spin
- Close Combat
- Stone Edge
The best Rapid Spinner. Period. He may not have the Best stats, but a useful ability, as well as foresight means that you will not have to deal with stealth rocks. He also makes mince meat of Physical Mega Evolutions.

Skarmory @ Leftovers
Ability: Sturdy
EVs: 232 Def / 252 HP / 24 Spd
Impish Nature
- Brave Bird
- Roost
- Spikes
- Whirlwind
Standard set, enough said really.

Greninja @ Life Orb
Ability: Protean
EVs: 252 Spd / 252 SAtk / 4 Atk
Hasty Nature
- Hydro Pump
- Extrasensory
- Shadow Sneak
- Ice Beam
An offensive greninja, who uses shadow sneak defensively to avoid fighting types and kill them with Extrasensory. Amazing pokemon.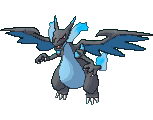 Charizard @ Charizardite X
Ability: Solar Power
EVs: 252 Spd / 252 Atk / 4 HP
Adamant Nature
- Dragon Dance
- Outrage
- Flare Blitz
- Earthquake
This is my Broom. He sweeps late game. That is all :P

Ambipom

Poster





Posts

: 76


Join date

: 2013-11-28



Looks good to me, I don't see any glaring weaknesses.

Z-man

Administrator





Age

: 26


Posts

: 247


Join date

: 2013-11-26


Location

: New York




Nathan032293

Top Poster





Age

: 26


Posts

: 1341


Join date

: 2013-11-22


Location

: Florida




---
Permissions in this forum:
You
cannot
reply to topics in this forum